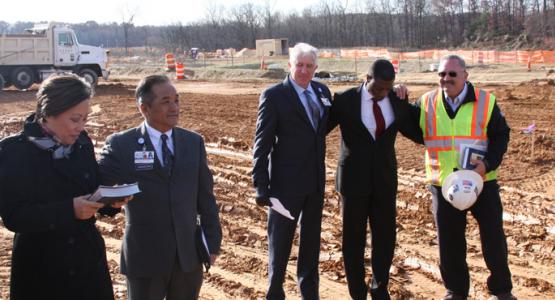 Adventist HealthCare Washington Adventist Hospital Begins Pouring Foundation for New Hospital
December 07, 2016 ∙ by vmbernard ∙ in Adventist HealthCare
Story by WAH Staff
Hospital and community leaders, caregivers and partners of Adventist HealthCare gathered on Dec. 2 for a blessing ceremony just ahead of the pouring of the foundation for the new Adventist HealthCare Washington Adventist Hospital in the White Oak area of Maryland, set to open in 2019.
The ceremony, opened by Erik Wangsness, president of Adventist HealthCare Washington Adventist Hospital, celebrated not only the physical foundation pouring, but also recognized Adventist HealthCare's foundation built upon the longstanding legacy of Adventists bringing holistic, whole-person healing to their communities.
"We gather to reflect and ask continued blessing for the construction of the new hospital--an expansion of our more than 100-year health ministry to the community," said Terry Forde, president and CEO, Adventist HealthCare. "We are blessed to carry forth our founder's vision--with both a new hospital on this land and continued health and wellness offerings in Takoma Park."
Nearly one year after gaining approval to build the new hospital, the foundation pouring, set to begin Dec. 12, marks the beginning of the construction of the hospital building, following months of work preparing the land and planning the design of clinical spaces.
"As the foundation for this building is laid, we want to dedicate this moment to you and ask that you bless this foundation so that this building can be a place where your presence is felt and your care is experienced," said Ann Roda, vice president of Mission Integration and Spiritual Care, Adventist HealthCare, who led guests in a prayer.
The following leaders led Scripture readings to bless the construction site and its crew;: Chaplain Biaka Chhangte; Dwain Esmond and Tim Poirier of the Ellen G. White Estate; John Sackett, executive vice president & chief operating officer of Adventist HealthCare and president of Adventist HealthCare Shady Grove Medical Center; and Rob Jepson, vice president at Washington Adventist Hospital.
Geoff Morgan, vice president of Expanded Access at Washington Adventist Hospital, presented four items to be embedded into a concrete wall of the hospital to signify Adventist HealthCare's legacy, including:
The 1907 ledger of the first patients admitted to the Washington Sanitarium, now Washington Adventist Hospital,
The book The Ministry of Healing by one of Adventist HealthCare's founders Ellen White,
A copy of a letter Ellen White wrote regarding the purchase of the Takoma Park property and location for the Washington Sanitarium, and
A copy of the Scripture passage, Ephesians 2:19-21, that reminds Jesus Christ is our cornerstone.
Stay up-to-date with the hospital's construction progress at OurCommunityTransformed.org.