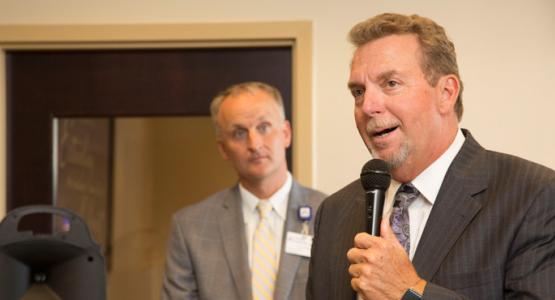 Adventist HealthCare Celebrates New Urgent Care Opening in Prince George's Centers
October 10, 2016 ∙ by vmbernard ∙ in Adventist HealthCare
Story by Adventist HealthCare Staff
When a bout of flu or a broken bone happens, Adventist HealthCare offers three urgent care centers to provide residents in Montgomery and Prince George's Counties with convenient access to quality care. 
Adventist HealthCare's first center opened in Rockville, Maryland in March 2015.  This year Centra Care Adventist HealthCare Urgent Care opened in Germantown in May and the newest center opened in Laurel in July.  
Convenience with a Compassionate Approach
As patients seek more convenient care options, the urgent care centers offer quality healthcare as a fast, easily accessible and lower cost alternative to emergency departments. At Centra Care, patients can receive treatment for a full range of minor illnesses and injuries. Many patients can come to the center and receive care in less than an hour – and find treatment during extended evening and weekend hours.
"Strong access to urgent care centers helps to cut down on expensive emergency room visits by offering care for non-life-threatening health conditions at times and locations that are convenient for patients," says Richard Samuel MD, a physician at the Laurel location and also a member of the Southern Asian church in Silver Spring, Md.
By offering quality urgent care services, Adventist HealthCare broadens its comprehensive network of health services and fulfills its mission of improving the health of people and communities.
Expanding Care in Upper Montgomery County
The opening of Centra Care in Germantown continues Adventist HealthCare's commitment to meeting the full range of healthcare needs of upper Montgomery County. Urgent care in Germantown joins other Adventist HealthCare services like the critical care at the Germantown Emergency Center, primary care services with Adventist Medical Group and comprehensive imaging services at Shady Grove Radiology.
Bringing Quality Care to Prince George's County
Adventist HealthCare is committed improving access and eliminating local disparities to quality medical care.  Accordingly, opening a Centra Care location as our first stand-alone care facility in Laurel is a significant step to ensuring residents in that region are properly served by a healthcare system.
"We recognize that fulfilling our mission of improving the health of people and communities includes providing convenient access to services for residents of Prince George's County," says Terry Forde, president and CEO of Adventist HealthCare.  "We look forward to expanding our offerings to all of Prince George's County moving forward."