Miracle Temple Members Birth Christian Networking Group
January 06, 2011 ∙ by cwhittingham ∙ in Allegheny East Conference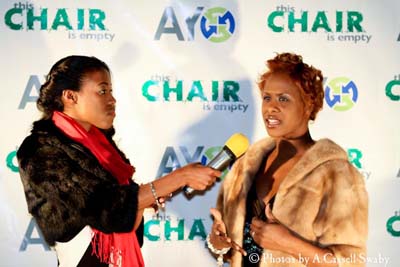 Story by Wes Guerrier
Photos by A. Cassell-Swaby​
Jeffrey and ShaVonne LaDonis, founders of Adventist Yell Out (AYO) and members of Miracle Temple, recently hosted a black-tie, networking mixer and debut at Allegheny East Conference's Baltimore-based church. The debut included a red carpet pre-show, a live auction and performances by gospel recording artists Virtue and Eric Nettles. The auction raised funds for AYO-produced documentary, This Chair is Empty, which explores the loss of young people from the Seventh-day Adventist Church. The documentary is meant to inspire Adventist young people to fulfill their dreams and connect them to creative and business professionals in the Adventist Church.
AYO's main purpose is to draw creative people to Christ," says LaDonis. AYO came about when he recognized that the Adventist Church and overall Christian community had little in the way of a structured networking forum for creative and non-traditional professionals.
"This was a powerful idea," said Errol T. Stoddart, DMin, Miracle Temple's senior pastor, whose undiscovered talent of auctioneering and comedy performance had the audience laughing throughout the night.
The event was broadcast live at mtnetworks.tv and drew 250 viewers during the live show. For more information on Adventist Yell Out, visit facebook.com/adventistyellout.
Photo: Stacia D. Wright interviews ShaVonne LaDonis on the red carpet.