Stillwater Military Member Stands Out in Japan
November 03, 2009 ∙ by owetmore ∙ in Ohio Conference
By Beth Michaels | Photo by John Michaels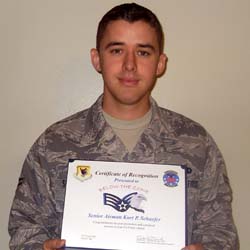 Airman 1st Class Kurt Schaefer, a long-time member of Ohio Conference's Stillwater church in Vandalia, Ohio, is moving up the promotional ladder at the Kadena Air Base in Okinawa, Japan. Since his arrival to the U.S. Air Force base in July 2008, Schaefer has won four awards, including one with his crew, and was promoted to an evaluator position in his job skill.
One of the most prestigious honors Schaefer earned was a Below the Zone award, a competitive early promotion program offered to enlisted U.S. Air Force personnel in Schaefer's grade. Only 15 percent of airmen are eligible for this early promotion, which is restricted to those who stand out from their peers and perform duties at a level above their current rank. To qualify for the award, a "package" is constructed for each competing airman, including a list of his/her major accomplishments and attributes, and then reviewed by a panel of judges. Upon selection, the qualifying airmen receive a date upon which their newly assigned rank will take effect. The effective date of promotion is six months earlier than the normal promotion date. 
Schaefer also qualified for the Lt. Gen. Leo Marquez Award. This award is presented to maintenance/communications-electronics maintainers who have demonstrated the highest degree of sustained job performance, efficiency, knowledge and results, and have had direct involvement in sortie (aircraft flight mission) generation.
"I think that they saw how different I was from my peers because of my Christian walk," Schaefer says of earning the awards. "I think I stand out because of what God has done in my life. I pray a lot about work, that I do well."
"We always knew Kurt would be at the top of the pack in any endeavor he got involved with," Dave Hutman, Stillwater pastor, comments. "He always brought excellence into everything he did. We are so proud of Kurt's accomplishments!"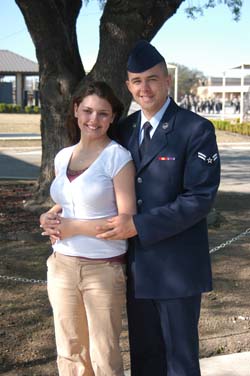 Candise, Kurt's new wife and another long-time member of Ohio Conference's Stillwater church, recently joined the award-winning soldier at the Kadena Air Base in Okinawa, Japan.