Union Musicians Awarded at Guild Ceremony
May 07, 2008 ∙ by kkajiura ∙ in Columbia Union News
By Beth Michaels 
Photos by Green Photography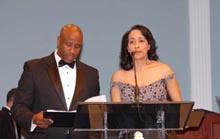 Twenty-two professional and highly talented musicians from around the Columbia Union were honored and awarded recently during the first Guild of Adventist Musicians Music Awards Ceremony. Run like a Hollywood-studded Grammy Awards ceremony, many friends, family, and other nominee supporters celebrated the winners and enjoyed the numerous musical performances from many of the union's own A-list musicians.
Jeanette Nelson, a music educator and member of the Dupont Park church in Washington, D.C., founded the Guild of Adventist Musicians in 1991 with nine charter members. Its mission is to encourage and promote excellence in the performance of sacred music, provide a forum for mutual support of Adventist musicians, stimulate expression of musical gifts in the church, and develop training programs to enhance musical ability in young musicians. 
"It was hard work, but I thoroughly enjoyed every minute working on this project," commented Nelson. "I am grateful to all those who played a part in bringing this project to fruition."
Churches and schools sent in their nominations in 2007, while a panel of handpicked judges recently selected the winners in eight categories. An additional 11 musical pioneers and leaders were named lifetime honorees. MC's Jude Patrick, MD, MPH, of the Capitol Hill church and David Starks of the Dupont church, both in the nation's capital, revealed the winners during the awards ceremony held at the Seventh-day Adventist World Headquarters in Silver Spring, Md. Pastor Charles Tapp of the Seabrook church in Lanham, Md., offered his rich, bass voice as the show's announcer.
Congratulations to the following winners:
Jerry Taylor of Ohio Conference's Kettering church—Outstanding Choral Conductor
David Green of Potomac's Seabrook church—Outstanding Choral Conductor
Victoria Alma Castello of Allegheny East's Metropolitan church in Hyattsville, Md.—Outstanding Accompanist
Reginald Reid of Potomac's Community Praise Center in Alexandria, Va.—Outstanding Accompanist
Tim Vandeman, band and choir director at Potomac's Takoma Academy in Takoma Park, Md.—Outstanding Band Director
Esther Wroten of Allegheny East's Dupont Park church in Washington, D.C.—Outstanding Music Teacher
Erich Mace of Pennsylvania's Reading Hampden Heights church in Temple—Outstanding Minister of Music
Mary Ann Sisson of New Jersey's Hightstown church— Outstanding Church Pianist
Marcellus Breach of Potomac's Capital Memorial church in Washington, D.C.—Outstanding Organist
Josepha Hammond of the Dupont Park church—Most Valuable Assistant
Wendell David Phipps of the Seabrook church—Rising Star Award
 
Those who received the Lifetime of Excellence in Music Award:
 
Virginia-Gene Rittenhouse, DMA, of Columbia Union College in Takoma Park, Md.
Alma Blackmon formerly of the Dupont Park church
Eugene Reid of the Emmanuel-Brinklow church
Allen Breach formerly of the Dupont Park church
Edward Jackson of the Dupont Park church
Laddie Bell of the Seabrook church
Nevilla Ottley of Allegheny East's Metropolitan church in Hyattsville, Md.
Francisco Araujo of Chesapeake's Frederick (Md.) church
Charles Lee Brooks (posthumous) of Allegheny East's First church in Washington, D.C.
Gwendolyn and Allen Foster of Allegheny East's Ebenezer church in Philadelphia
Another special segment of the show was the announcement of the Alyne Dumas Lee Award. Lee was an internationally renowned Adventist vocalist and recipient of numerous musical awards who made her professional debut in 1949 as an opera singer in Chicago. This award is for up-and-coming singers who demonstrate a professional approach in accomplishing their musical goals and commitment to their musical art and remain true to the teachings of their faith. This award went to Sheri Jackson of the Dupont Park church.
"It was an evening I will never, ever forget," said one attendee of the awards program. "There were many performances worthy of Carnegie Hall," said another. 
Stay tuned for announcements about next year's event.