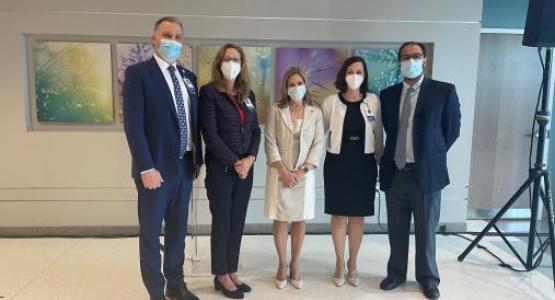 Hope & Healing at New Cancer Center
July 20, 2021 ∙ by Web Administrator ∙ in Adventist HealthCare
Story by Adventist HealthCare Staff
On May 17, Adventist HealthCare and its partner Maryland Oncology Hematology held a Dedication Ceremony for the new White Oak Cancer Center in Silver Spring, Maryland. Leaders from Adventist HealthCare, Maryland Oncology Hematology and The US Oncology Network gathered to celebrate the opening of the center that is focused on the physical, mental and spiritual healing of its patients.
The White Oak Cancer Center, located in the Medical Pavilion on the Adventist HealthCare White Oak Medical Center campus, offers comprehensive cancer care – including chemotherapy, radiation, nutrition, surgical care and other support services – to the communities of Eastern Montgomery County and the surrounding area.
The White Oak Cancer Center is a partnership between Adventist HealthCare, Maryland Oncology Hematology, one of the top providers of cancer care in the region and The US Oncology Network. Through this partnership, physicians, nurses and other healthcare professionals work together to provide compassionate, personalized care using the latest technology and treatments.
A cancer diagnosis can be frightening and overwhelming. The physicians and other providers at the center are committed to helping ease that burden for patients and their loved ones. At the dedication, Anthony Stahl, president of White Oak Medical Center, shared how his mother's cancer diagnosis years ago left his family waiting for answers and care to begin and how the White Oak Cancer Center helps patients by offering coordinated cancer care in one place. "Those fears can be alleviated so rapidly as someone is diagnosed. Treatment can begin in the hands of amazing physicians."
To learn more about Adventist HealthCare's comprehensive cancer care, visit AdventistHealthCare.com/Cancer.