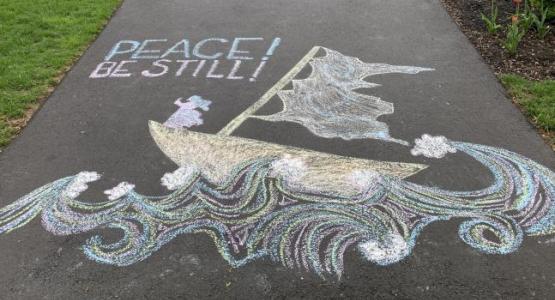 Pastor Chalks the Walk, Thinks Outside the Mailbox
April 30, 2020 ∙ by rbacchus ∙ in Chesapeake Conference
Story by Ricardo Bacchus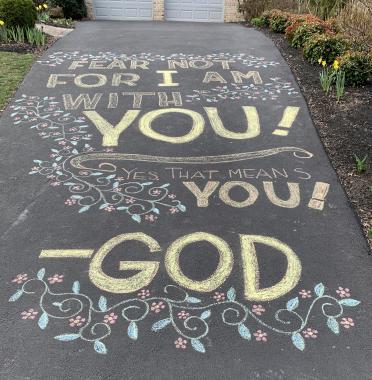 "I don't really consider myself an artist, but I do enjoy dabbling in what I call 'art therapy,'" says Kandace Zollman, the pastor for nurture and visitation at Chesapeake Conference's Spencerville church in Silver Spring, Md.
She recently took this "art therapy" to a whole new level. Each Sabbath since social distancing started due to the coronavirus, she has put her talents to work by "chalking" God's love on her driveway.  
"I really wanted to send some kind of message of hope to the people around me. I decided that the message that I left would be the words of God Himself to people who are struggling," she says.
Zollman's chalk work has caught the attention of many passersby. Cars have honked, people have stopped to take pictures and neighbors have initiated conversations. One young man even commented that it was a wonderful way to do evangelism.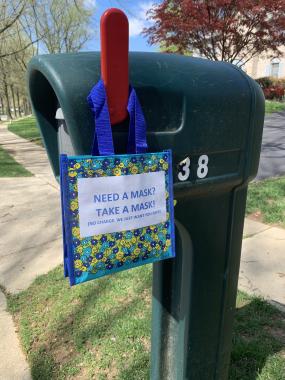 If her artistry wasn't enough, she also added a special gift at the end of her driveway: free masks. Hanging from her mailbox, she offers free handmade masks to neighbors. She has made a total of 60 masks for family members, co-workers and nearby residents.
"I really feel that God put both of the ideas together so that people can see that Christianity is an action, as well as just words," Zollman adds. "I think God is using this crisis to help all of us think outside of the box, allowing Him to use us in ways that we had never thought of before."