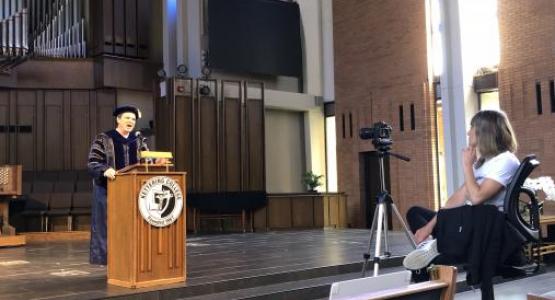 Kettering College Holds Virtual Commencement Ceremony for Spring Graduates
July 14, 2020 ∙ by vmbernard ∙ in Kettering College, Education
Story by Lauren Brooks
 On Friday, May 8, 2020, Kettering College held a virtual commencement ceremony for their spring graduates instead of an in-person ceremony, which was postponed due to the COVID-19 pandemic. 
Kettering College collaborated with StageClip to create a digital platform where graduates could record a video message or submit a photo and a personal message that would be displayed during the commencement ceremony.
The Kettering College Public Relations & Marketing Office filmed a welcome address by Kettering College president, Nate Brandstater; a graduation reflection by Emily Aviles, an Occupational Therapy doctoral graduate; and the announcement of names by Scott Bennie, Rafael Canizales, and Paula Reams, all academic deans at Kettering College. The footage from all the addresses and announcement of names were edited together to create a commencement ceremony and streamed live on YouTube for graduates, their families and friends to create a celebratory, communal event.
StageClip also created a special Kettering College Snapchat filter for graduates who didn't have a cap and gown to film their video message or take their photo for the commencement ceremony. After the ceremony, the spring graduates received an individual clip to share on social media.
 Over 100 people tuned in to the virtual commencement ceremony, with Kettering College faculty, staff, friends and family of graduates sending congratulations through the chat feature on YouTube.
"Nothing matters more to us than the success of our students," said Brandstater. "Commencement is the most public way we celebrate that success, and I am thrilled to be joining our faculty and staff in celebrating digitally the amazing accomplishments of our students."