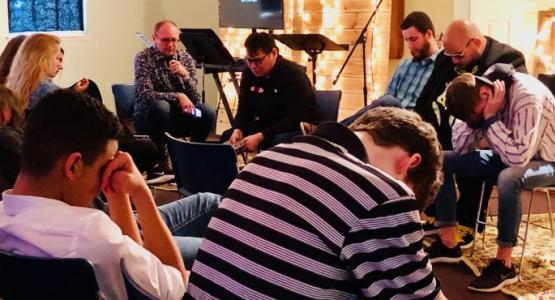 Youth 'Recharge' Faith at Worthington Church
June 11, 2019 ∙ by Web Administrator ∙ in Ohio Conference
Story by Heidi Shoemaker
How do I find Christ again?" This was one of the authentic and heartfelt questions asked by high school youth during the recent "ReCharge" gathering at the Worthington church, says Edward Marton, Ohio Conference's Youth Ministries director.
Guest speaker Willy Ramos, affectionally known as the "Ghetto Preacher," connected with the teens, sharing scripture from Genesis in the morning and Revelation in the evening. He focused on the importance of maintaining a relationship with Jesus— Someone who will never let you down. "The devil tempts you to leave Jesus ... but it's you and Jesus," shared Ramos.
Multiple activities and service projects broke up the afternoon. These included baking homemade cookies and delivering them to area firefighters; engaging in a "food fight"; distributing grocery bags to homes throughout the neighborhood, requesting residents to fill them before being picked up the following week; painting rocks with inspirational messages to place in local parks; and visiting an area nursing home.
During one portion of the event, teens were able to text questions to Ramos, Marton and a team of youth pastors. "These were not theoretical questions," says Marton. "These were questions dealing with issues [earlier generations] didn't have to deal with in the past at their age." One by one, they answered each question, as the young people renewed their faith a passion for Christ.
Visit vimeo.com/ohioconference/recharge to see how Ohio is #GrowingYoung together as a church family!