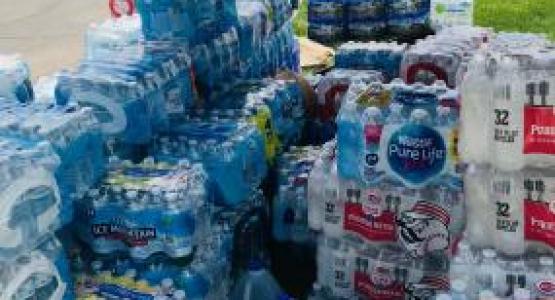 Los Adventistas se Reúnen para Ayudar Después de los Tornados de Ohio
July 11, 2019 ∙ by rbacchus ∙ in Ohio Conference, Noticias
Historia de Heidi Shoemaker y Visitor Personal
Luego de las tormentas severas que incluyeron al menos 14 tornados confirmados y la muerte de una persona en el área de Dayton / Miami Valley en Ohio y dejaron a su paso cortes de agua y electricidad, los adventistas del Séptimo Día se unieron para ayudar a la comunidad. En las semanas posteriores a las tormentas de junio, las instalaciones de Kettering Adventist HealthCare (KAHC) trataron 175 personas con lesiones relacionadas con las tormentas, mientras que los líderes de Servicios Comunitarios Adventistas (ACS) y sus equipos de Respuesta ante Desastres brindaron apoyo, comida y oraciones.
Además de las donaciones a The Foodbank en Dayton y $50,000 a la Fundación Grandview de Kettering Adventist HealthCare para apoyar a los empleados afectados, KAHC proporcionó comidas para 700 personas, cuatro noches a la semana durante varias semanas.
The Good Neighbor House (GNH) en Dayton, Ohio, con el apoyo de varias iglesias de la Conferencia de Ohio y el trabajo con varias iglesias y miembros de la comunidad de la Conferencia de Allegheny West (AWC), ha ayudado a las víctimas afectadas mediante el suministro de agua, alimentos, artículos de tocador y artículos de limpieza.
Los miembros de la Conferencia de Allegheny West entrenados en asistencia de cuidado espiritual también están trabajando con la Conferencia de Ohio y KAHC para brindar apoyo. La iglesia del Ethan Temple de AWC en Clayton y la iglesia de Hillcrest en Dayton también brindaron alivio temporal a los residentes.