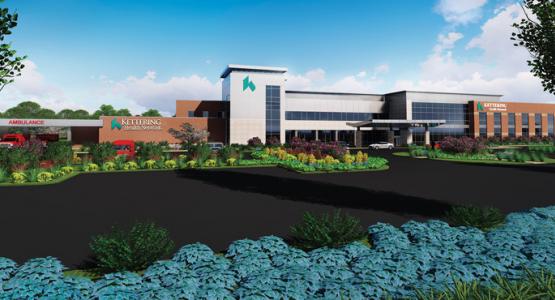 Kettering Adventist HealthCare to Build Medical Facility in Middletown
May 04, 2017 ∙ by vmbernard ∙ in Kettering Health, Ohio Conference
Story by Elizabeth Long
Kettering Adventist HealthCare plans to build a 67,000 square-foot medical facility on land it purchased in Middletown on State Route 122, just southeast of I-75.
The medical center will transform care for the patients and their families that live in the greater Middletown community. Offering a coordinated approach to healthcare, patients can receive preventative, whole-person care centered around the patient, near where they work and live. This seamless approach is different than anything that currently exists in southwest Ohio. This is truly the facility of tomorrow, today.
The facility will include a full-service emergency department, outpatient lab and imaging services, and a medical office building for physician practices. It is expected to create 110 new jobs, including registered nurses, respiratory therapists, imaging and lab technicians, and support staff.
"We are thrilled to expand our services to the Middletown community," says Fred Manchur, Kettering Health Network CEO. "This is part of our mission to provide whole person care to people where they live. With the ever-changing healthcare landscape, we are committed more than ever to managing the health of the population in southwest Ohio. In order to do that effectively, we have to be physically located in communities."
The facility is expected to cost about $30 million and is scheduled to be completed in mid to late 2018.
Kettering Health Network is a not-for-profit network of eight hospitals, 10 emergency departments, and 120 outpatient facilities serving southwest Ohio. The network's hospitals are Kettering, Grandview, Sycamore, Southview, Greene Memorial, Soin, Fort Hamilton, and Kettering Behavioral Medicine. Kettering College, a division of Kettering Medical Center, is a fully accredited college that specializes in health science education. Kettering Health Network is recognized as one of the 2017 Truven Health Analytics 15 Top Health Systems in the United States. For more information, visit www.ketteringhealth.org.