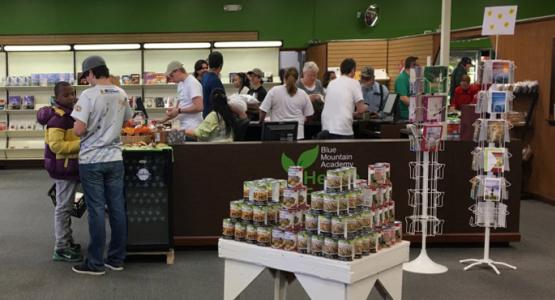 Blue Mountain Academy Opens New Health Food Store
February 23, 2017 ∙ by vmbernard ∙ in Pennsylvania Conference, Education
Story by Dave Morgan
When one door closes, God opens another! The Adventist Book Center, which was located on the campus of Blue Mountain Academy (BMA) in Hamburg, Pa., recently closed. Many shoppers wondered what could replace this conveniently located store, with its friendly environment and familiar, well-loved products. "It was very disappointing when we drove up Sunday and saw the sign 'Permanently Closed,'" says customer G. Russel. "We shopped there on a regular basis, and it was one of the ways we supported the school."
BMA leadership saw an opportunity to remedy this concern. They would open their own store and offer students the ability to gain business experience as part of their vocational education program, while generating revenue for the academy.
Stephen Reese, vice president for Finance, has worked feverishly to repurpose the space and bring in new products. He worked closely with Aaron Weber, director of operations, to place BMA's homegrown, non-GMO organic and transitional organic products—such as soybeans, apple sauce and honey—on the shelves. Already they offer student-processed apple sauce, soybeans and honey, to name a few. Traditional Loma Linda, Cedar Lake and MorningStar Farms products are among the vegetarian staples also available.
The store celebrated its grand opening in February and is meeting customers such as Gary Reese, who says, "We were so excited when we heard BMA was opening a store. We will be huge supporters, especially because it supports Adventist education. It is a win for everyone!"
The Blue Mountain Academy Health Food Store will be open during the Pennsylvania Conference Camp Meeting (June 9-17), offering a café, food samples and discounted pricing.
The store is located at 2363 Mountain Road, Hamburg Pa.