Adventists Support West Virginia Flood Relief
June 25, 2013 ∙ by cwhittingham ∙ in Mountain View Conference
Story by Sue Patterson
Over a three-day period, members of Mountain View Conference's  Adventist Community Services (ACS) Disaster Response (DR) team assisted 458 people the Spencer, W.Va.-area in this month.
 
"Inside some homes was anywhere from 2 to 4 feet of water. Basements were totally flooded; there were also ambulances, vehicles and bridges under water. Over 200 homes were affected by this flood," reported Cesar Quispe, a Mountain View pastor and the conference's ACS director.
 
The flooding happened Thursday, June 13, and Quispe was there by Friday evening pitching in and helping with clean up, food distribution, providing shelter and reinstalling ruined drywall and floors.
 
Initially 10 people from the ACS team came and helped for several days. Members of several other local church ministries pictched into help. Among them was Glen Pate, a member of the Spencer church and manager of its Roane County Better Living Center thrift store. "He has been committed from day one," Quispe says.
 
"Another group of workers consisted of eight students and staff from Miracle Meadows School (a self-supporting Adventist school in Salem, W.Va.) who came for two days and put in long hours doing a wonderful job with cleanup," said Quispe.
 
ACDR also worked with businesses such as the Dollar General, Lowes and Wal-Mart to obtain cleaning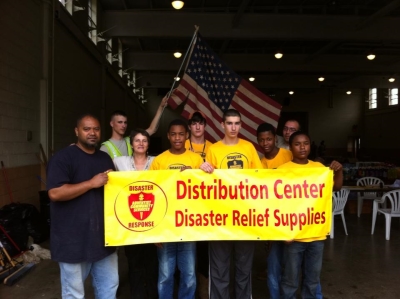 supplies that included wipes, paper towels, water, brooms, mops, etc.
 
As members of Voluntary Organizations Active in Disaster (VOAD), ACS team members work hand in hand with volunteers from other denominations in the area to support flood victims. Jenny Gannaway, the state chair representative and a member of the National VOAD explains, "Our organization helps bring together non-profit organizations to help people with shelter, cleaning supplies, anything needed in helping with the effects of the disaster, putting families into homes and mucking out homes. On behalf of the state of West Virginia and VOAD, I would like to say that the Adventist Community Services has done a phenomenal job and we couldn't have done it without their help. We appreciate so much the services they offered."
 
"Even though short-term efforts were completed in one week, there remains an ongoing long-term recovery team to help rebuild homes," Quispe says.
Photo 1: Flooding in the Spencer, W.Va., damaged roadways and homes.
Photo 2: Members of the conference's Adventist Community Services Disaster Response team sprang into action to help their neighbors.