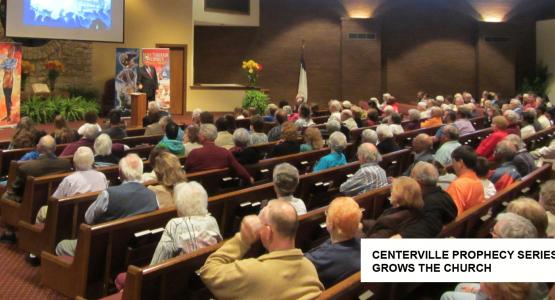 Centerville Prophecy Series Grows the Church
June 09, 2015 ∙ by Anonymous ∙ in Ohio Conference
Centerville Prophecy Series Grows the Church

Story by Heidi Shoemaker
"It was a grueling schedule. Five nights a week for five weeks? Who makes that kind of commitment these days? We wondered if we could sustain interest," says Winston Baldwin, senior pastor of the Centerville church, of their recent 22-meeting evangelistic series conducted by evangelist Lonnie Melashenko. However, church leaders and volunteers remained committed and attracted an average of 40-50 guests from the community each night.
Winston Baldwin, baptizes Mary Felts. Photo credit James Barber
Attendance climbed throughout Melashenko's "Hope Through Prophecy" series, opening with 350 people and closing with an unprecedented 400 attendees. Baldwin and his team connected with more than 250 guests during the series, the majority of whom continue to attend the church's home Bible study fellowships and seminar sessions. "The days of public evangelism aren't over!" states Melashenko.
Organizers say this Bible seminar was for everyone, Christians and unbelievers alike, and drew a wide variety of individuals. "If these meetings continued five nights a week for the rest of this year, I'd be at every one of them!" says attendee Dorie Evans. "I've been praying earnestly for a clearer understanding of prophecy when the 'Hope Through Prophecy—What's Next?' handbill arrived my mailbox." She attended every night and brought her husband, John, when he wasn't flying to Brazil for Delta Airlines. True to her word, Dorie and John continue to attend programs at the church.
Another visitor drove more than 60 miles each night to attend the meetings. Others came because of their children, who learned age-appropriate versions of what their parents learned from Melashenko. By the conclusion of the series, 10 attendees chose baptism and many continue to study and prepare for baptism. Baldwin shares that they are now using Melashenko's "Thunder in the Holy Land" series and have several small groups with at least seven attendees continuing to study. He adds that there are nearly a dozen new people in the groups.
The series also revitalized longtime members. Many were overheard saying, "I've heard these messages before, but never like this! It has revitalized my spiritual life!" After one particularly inspirational message, several remarked to Melashenko, "This was the most powerful [outpouring of the] Holy Spirit's presence I have ever experienced."
Melashenko says few meetings like this have been conducted in Ohio in recent years. Ron Halvorsen Jr., conference president, texted Melashenko and his team nightly with encouraging words, like, "I'm out of state, but my prayers are with you. May God just pour Himself out on you and these meetings."