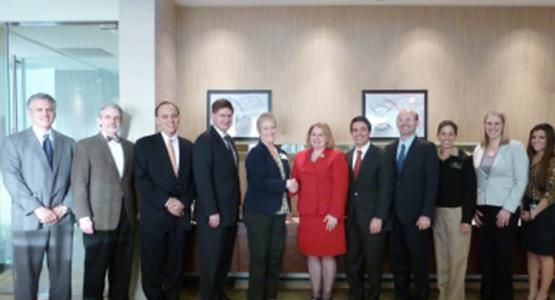 Washington Adventist Hospital and FDA Expand Collaboration
December 17, 2013 ∙ by Anonymous ∙ in Adventist HealthCare
Joyce Newmyer, WAH president, shakes hands with Melanie Keller, MBA, executive officer and director of the FDA's Office of Management. Both are flanked by representatives from WAH and the FDA's Center for Drug Evaluation and Research.
Story by Lydia Parris
The Food and Drug Administration's (FDA) Center for Drug Evaluation and Research (CDER) and Washington Adventist Hospital (WAH), which has plans to relocate to White Oak, Md., near the FDA campus, announced last week that they have entered into an agreement to collaborate on drug evaluation and research.
"This agreement builds on the existing relationship between the FDA and Washington Adventist Hospital by allowing additional collaboration with the Center for Drug Evaluation and Research," said John Whyte, MD, MPH, CDER's director, professional affairs and stakeholder engagement. "This continuing partnership is beneficial to the mission of both organizations, particularly CDER's responsibility to protect patients by assuring the safety, effectiveness and security of human drugs. We look forward to exploring the new opportunities that result from this collaboration."
The Memorandum of Understanding (MOU) between the hospital and the CDER is the second such agreement between the organizations. In January 2009, an overarching MOU was signed to support medical and scientific progress affecting human health and medicine. The organizations are working together now and expect areas of cooperation will be expanded over time when the hospital relocation to White Oak is complete.
WAH President Speaks to City Council
Joyce Newmyer, WAH president, shared information on the hospital's proposed relocation plan with the Takoma Park City Council and community members at a public hearing on December 9. "The new facility will be located off major connecting roads with enhanced public transportation options, dramatically improving access for the communities we serve," she explained. "In addition to not being a cost-effective solution, rebuilding on our current campus will cause great disruption to our patients, staff and community because of nighttime demolition."