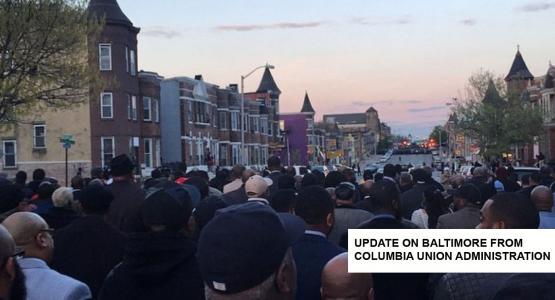 An Update on Baltimore From Columbia Union Conference Administration
April 28, 2015 ∙ by Anonymous ∙ in Allegheny East Conference, Chesapeake Conference, Columbia Union News
Thank You for Your Prayers for Baltimore
An Update from Columbia Union Conference Administration
Three Baltimore pastors marched on Monday night to help promote peace. Photograph by Pastor David Franklin
Thank you for your thoughts, prayers and concern for Baltimore. We are saddened by the developments here, and join with our conference administrators, churches, ministries and members in calling for an end to the violence and destruction that is hurting our communities. And, we ask everyone to continue circling Baltimore with prayers for peace and healing at this difficult time.
There are nearly 20 Adventist churches and several schools in the Baltimore Metropolitan area and, so far, none have been negatively impacted. An Adventist member who is a police officer did get struck by several bricks thrown by rioters but is doing fine and remains on duty.
Minnie McNeil, Allegheny East Conference (AEC) ACS director, who also serves as our union ACS coordinator, today convened a teleconference with Baltimore pastors from the Allegheny East and Chesapeake conferences and the North American Division ACS Department to assess needs and determine how to help. They are ready to assist the city with clean-up efforts as needed.
Maurice Taylor, pastor of Berea Temple and head of AEC's Baltimore Ministerium, reported that three Adventist pastors marched with local clergy last night and will join citywide clergy for a town hall meeting today at 7:30 p.m. In addition, Pastor Taylor and pastors of the other Adventist churches in the city are organizing a prayer vigil tomorrow at 7 p.m. at Berea Temple, which is closest to the areas most impacted.
More than 100 churches in AEC, Chesapeake and Potomac have been hosting evangelism meetings in the Baltimore-Washington area as part of the union's "Prophecies of Hope" initiative. Leaders will continue the meetings as scheduled.
Further Updates---Our Visitor team will continue to share news and updates at columbiaunionvisitor.com and via Facebook and Twitter.
Feature photograph by Chip Dizard.
Read our other articles on this topic: