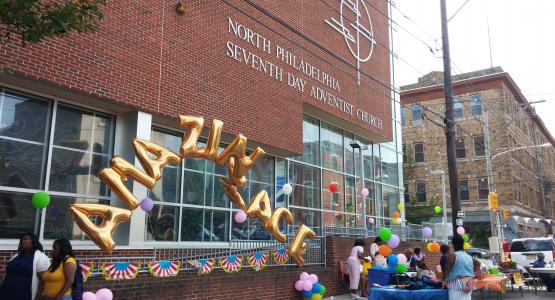 North Philadelphia Church Hosts an Amazing Race
November 10, 2014 ∙ by Anonymous ∙ in Allegheny East Conference
North Philadelphia Church Hosts an Amazing Race
Story by LaTasha Hewitt/ Photos by Charles Williams
Pathfinder John Hearst shares a goodie bag, packed with toiletries and snack, to a passerby.
The North Philadelphia (Pa.) church youth recently raced throughout their community to provide acts of kindness and community service. Adult chaperones, including an elder, oversaw each group during their Amazing Race.
The youth were divided into two teams: Team Praiz and Team Victorious. Each group was assigned adult chaperones, including an elder. They followed clues that led them to various destinations in the community, and received clues about the tasks they had to complete. The teams completed such tasks as cleaning a street block, distributing water to passersbys, distributing literature and visiting a local police station or fire department.
Racers also invited members back to the church's block party, which took place later that day. There was live music, free food, a moon bounce, face painting and information and giveaways from various church ministries.
"I believe that churches have the perception in a community of only taking up space, and this particular church has no parking lot, so on Sabbaths we're viewed as takers. Events like this let our neighbors know that we are givers too," says Pastor Keith Goodman.
For videos of these events visit AEC's online news magazine at www.visitaec.org.
Racers take a picture with a local firefighter after thanking them for their service to the community.