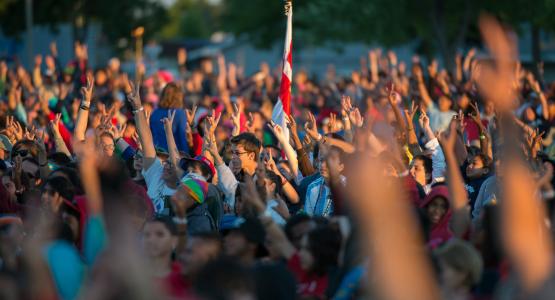 2014 Adventist Pathfinder Camporee off to an Energetic Start
August 13, 2014 ∙ by Anonymous ∙ in Columbia Union News
More than 46,000 people arriving in U.S. state of Wisconsin for massive Camporee; several clubs bike the 830 mile-trip
Story by Ansel Oliver/ANN
Kids are excited about meeting people from other countries. Teens are eager to climb walls and clean parks. And their chaperones are glad most smartphones will be off for a week.
The massive Seventh-day Adventist Pathfinder Camporee has begun here in the U.S. state of Wisconsin, which plays host to an event bringing 44,000 people from across the United States, Canada and Bermuda, and an additional 2,000 people from more than 50 other countries.
The event—the North American Division Pathfinder Camporee hosted by the Center for Youth Evangelism—is held every five years. Organizer Ron Whitehead says it takes four years to plan.
"I've never been so physically exhausted, but I've never been happier to be this tired," Whitehead said. "We really care and value our young people."
This year's Camporee—with the theme "Forever Faithful"—is being held at the Experimental Aircraft Association's AirVenture Campgrounds. This is the fourth time organizers have held the event here, and the gathering increases the city of Oshkosh's population by approximately 70 percent.
Read more on Adventist News Network here:
Click here to see photographs of Columbia Union Pathfinders.