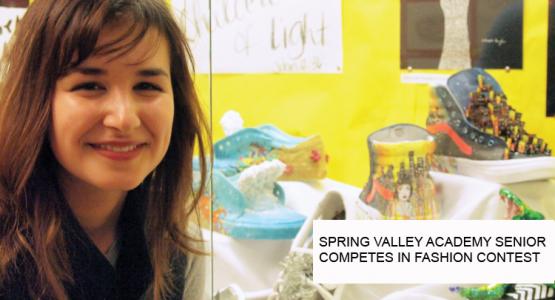 Spring Valley Academy Senior Competes in National Fashion Contest
July 29, 2014 ∙ by Anonymous ∙ in Education, Ohio Conference
Alexandra Papaioannou, a senior art student at Spring Valley Academy in Centerville, Ohio, recently participated in the Vans Custom Culture art competition and designed some amazing shoes.
Story by Vicki Swetnam
The competition was launched to draw attention to the importance of arts in education in the face of shrinking budgets. Student participants received four pairs of Vans shoes to turn into art, with each pair to focus on a different theme: art, music, action sports and local flavor.
Papaioannou created the following designs: New York City complete with skyscrapers; a rib cage encasing a wire heart; surfing with the shoe tongue designed as a wave; and a green serpent, complete with sequins, to represent Ohio's Great Serpent Mound as the local flavor. Although Papaioannou was not a contender in the finals, the school commends her on demonstrating cutting-edge fashion and creative design!