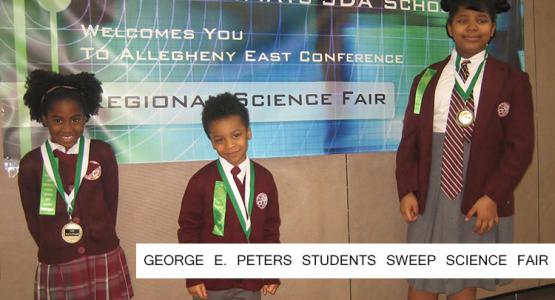 George E. Peters Students Sweep Science Fair
March 13, 2014 ∙ by Anonymous ∙ in Allegheny East Conference, Education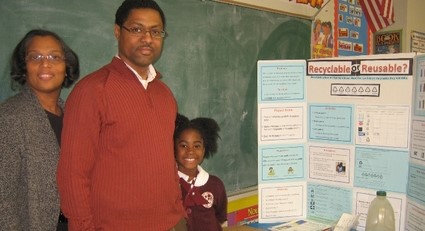 Primary winner Gwen Straker is pictured with G.E. Peters' Karen McKinnie, science teacher, and John Alberty, principal.
Story by Shayla-René Little
This year students at the George E. Peters Adventist School in Hyattsville, Md., came in first place in three out of four categories in Allegheny East Conference's annual science fair.
Participants were selected to represent their school at the regionals based on their placement in a local science fair. To prepare for the conference-wide fair, they received science, technology, engineering and math journals to sojourn through a 90-day process of exploration and discovery.
The first-place winners for the following categories are: kindergarten, Mikal Witherspoon from G.E. Peters; primary, Gwen Straker from G.E. Peters; elementary, Siegfried Howell from the Sharon Temple Adventist School in Wilmington, Del.; and middle, Jennae Whitted from G.E. Peters. The fair was held at the Wilbert F. Mays Adventist School in Teaneck, N.J.