June 2017 Bulletin Board
ADVENTIST HEALTHCARE:
Show your care and compassion as a registered nurse, and join the Adventist HealthCare family in Maryland. Bring your experience and passion to make a difference in the lives of our patients. For information and to apply, visit jobs.adventisthealthcare.com.
LOMA LINDA UNIVERSITY School of Religion seeks a New Testament professor, assistant/associate/full, who will excel in teaching graduate and undergraduate students, services, research and denominational leadership. PhD or equivalent. Please email a cover letter, CV and three letters of recommendation to Dr. David Larson, dlarson@llu.edu.
WALLA WALLA UNIVERSITY is hiring! To see the list of available positions, go to jobs.wallawalla.edu.
ANDREWS UNIVERSITY seeks a faculty instructor for aircraft maintenance. The aviation maintenance instructor is responsible for teaching, planning, organizing and operating within an FAA-approved, part 147 maintenance school, designed to prepare students for the Aviation Maintenance Technician (AMT) career and related aerospace and technical fields. With commitment to Christian higher education, faith and learning must be integrated into the aviation maintenance program. For more information or to apply, visit andrews.edu/admres/jobs/1348.
WEIMAR INSTITUTE IS SEEKING MASTER'S-PREPARED NURSES for the 2017-2018 school year to teach psychiatric/mental health nursing, mother and infant nursing, pediatric nursing, community nursing and medical-surgical nursing. Also need BS-prepared nurses in adjunct positions to teach clinicals in all of these areas. Résumés to winursing@weimar.edu.
NEW DIMENSIONS FOREIGN LANGUAGE SCHOOL seeks native English speakers who love sharing Jesus to teach oral English in China for a year. BA or BS required. For more information, visit adventistvolunteers.org/longterm/viewcall.aspx?svcreqid= 17413 or email NDFLS@usa.com.
ANDREWS UNIVERSITY SEEKS A UNIVERSITY ARCHIVIST. This administrative staff position is responsible for the operation of the Andrews University archives program including planning, education, promotion, acquisition, processing, organization and disposition of university records. For more information or to apply, visit andrews.edu/admres/jobs/1311.
Miscellaneous            
VOLUNTEERS NEEDED! AMEN FREE CLINIC, Ukiah, Calif., October 17-20. Need dentists, dental hygienists, dental assistants, physicians, ophthalmologists, optometrists, registration, hospitality, communication and general help. Find out more at ukiahsda.com and click on AMEN medical clinic, or call (707) 695-0432.
REMNANT PUBLICATIONS has the perfect study Bible, which will enhance personal devotions for both adults and children. We can also provide you with sharing books, pocketbooks and DVDs to help you reach your community with the gospel. Visit your ABC, or remnantpublications.com, or call (800) 423-1319 for a free catalog.
HEALTH MINISTRY COORDINATORS AND PERSONAL MINISTRY DIRECTORS: We have beautiful inexpensive witnessing supplies, magazines, brochures, tracts and books. Free catalog and sample. Call (800) 777-2848 or visit us at familyheritagebooks.com.
WILDWOOD LIFESTYLE CENTER: For 75 years we have taught people to live healthy, avoid disease and maintain youthful energy, or helped healing of diabetes, heart disease,
hypertension, obesity, arthritis, fibromyalgia, lupus, chronic fatigue, cancer, depression, anxiety and many more. Invest in health, call (800) 634-9355 or visit wildwoodhealth.org.
Real Estate                   
BUYING? SELLING? RESIDENTIAL HOMES IN MARYLAND. Call: The MdSmartBuy Team. Phyllis Newman, (301) 922-5166 and Janice Valois, (301) 502-2103. Re/max Realty Center, Inc., (301) 774-5900, (800) 586-4669 or at mdsmartbuy.com. Email: phyllisnewman@realtor.com or janice@janicevalois.com.
Services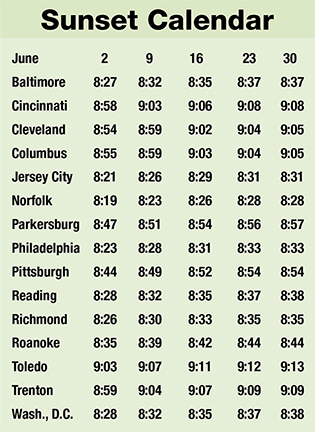 ELTERNHAUS ASSISTED LIVING, QUALITY CARE FOR ADVENTIST SENIORS. Located on 10 acres in the rolling farm hills of western Howard County, Maryland, close to Columbia and Silver Spring. We have specialized in all levels of assisted living for more than 25 years. We provide a home-style environment and comfortable surroundings with a personal touch! Sit out on our covered south deck or the front porch, and enjoy the country views. All meals are vegetarian and delicious! Enjoy Friday night vespers, ride to church Sabbath morning, or watch 3ABN and Hope Channel. Contact Tim Mayer for more information and a tour at (240) 286-3635, or email  tim@elternhausalf.com.
MARYLAND ADVENTIST PODIATRIST: Dr. Scott Nutter, highly trained, experienced and board certified, is available in several locations to help your foot/ankle problems, including arthritis, heel pain, spurs, diabetes, callouses, ingrown nails, sprains, fractures, warts, bunions, etc. Surgery, if it is needed, at Adventist hospitals. Offices located in Laurel, Greenbelt and Columbia. Call (301) 317-6800.
MOVE WITH AN AWARD-WINNING AGENCY: Apex Moving & Storage partners with the General Conference to provide quality moves at a discounted rate. Call us for your relocation needs. Adventist beliefs uncompromised. Call Marcy Danté at (800) 766-1902 for a free estimate. Visit us at apexmoving.com/adventist.
MARYLAND ADVENTIST DENTIST, DAVID LEE, DDS, FAGD, AFAAID, FICOI, has practices located in Silver Spring and Columbia, Md. He is extensively trained in implant, cosmetic, TMD/TMJ, sleep apnea treatment, sedation and laser dentistry. Dr. Lee is an Associate Fellow of the American Academy of Implant Dentistry, as well as having many other certifications. For appointments, call (301) 649-5001 or (410) 461-6655. Mention this ad and receive a 10% discount on all services, excluding third-party payers. We welcome new patients!
PLANNING AN EVANGELISTIC SERIES OR HEALTH SEMINAR? Have questions? Need affordable, professionally prepared handbills, brochures, signs, banners and mailing services? Call free, (800) 274-0016, and ask for HOPE Customer Service or visit hopesource.com. You deserve the best with confidence and peace of mind. Your friends at HOPESource deliver on time.
ADVENTIST BOOKS AND AUTHORS: Looking for new Adventist titles to encourage
and grow your daily walk? Visit us at TEACHServices.com. For used Adventist books, visit LNFBooks.com. Authors, if you're interested in having your book published, call (800) 367-1844 for a free evaluation.
THE CLERGY MOVE CENTER at Stevens Worldwide Van Lines is the way to move from one state to another! Through our national contract with the General Conference, we extend our moving services to all Adventist families. Quality is inherent. Contact one of our dedicated move counselors today for a no-cost/no-obligation estimate at (800)-248-8313, or learn more about us at stevensworldwide.com/sda.
Announcements          
GREATER BALTIMORE ACADEMY FULL-SCHOOL REUNION, September 16. All students, faculty, staff and friends of the school, the reunion includes students and faculty of Edgecombe Jr. Academy (EJA), Greater Baltimore Academy (GBA) and Greater Baltimore Jr. Academy (GBJA). This is one school body with three names. For more information, please contact Marian (Schubert) Phillips, coordinator, by email, ilovelighthouses@hotmail.com, or phone, (301) 797-5291.
Legal Notice                 
CONSTITUENCY MEETING OF THE NEW JERSEY CONFERENCE OF SEVENTH-DAY ADVENTISTS
    Notice is hereby given that the 40th regular constituency meeting of the New Jersey Conference of Seventh-day Adventists is called to convene at 10 a.m., Sunday, September 24, 2017, in the Robbinsville Community Seventh-day Adventist Church on 2314 Route 33, Robbinsville, NJ 08691. The purpose of this meeting is to elect officers and committees, consider recommendations for amendments and revisions of the constitution and bylaws, receive reports of the organization and transact such other business that may properly come before the constituency at that time. 
    Local churches, church boards, conference-operated institutions, departmental directors and permanent commissions, committees and boards of the conference may propose items for the agenda. The deadline is July 30, 2017.
José H. Cortés, President
Mike Gill, Secretary
Obituaries                     
PIERCE, Charles L., born January 11, 1924, in Candler, N.C.; died September 10, 2015, in Tavares, Fla. He was a member of the Plymouth-Sorrento church in Apopka, Fla. He worked for the denomination at Highland Academy (Tenn.); Forest Lake Academy (Fla.); Southern Adventist University (Tenn.); Adventist College of Brazil; Mt. Pisgah Academy (N.C.); Mt. Vernon Academy in Ohio, now closed; Washington Adventist University in Takoma Park, Md., and Canadian Union College. Survivors: his son, Chuck Pierce of Hackettstown, N.J.; and his daughter, Cheri Pierce of Sorrento, Fla.
PRICE, James W., born March 13, 1960, in Youngstown, Ohio, son of George V. and Mary E. (Narducci) Price; died June 25, 2016, in Austintown, Ohio, with his family by his bedside. He graduated from Austintown Fitch High School in 1978 and attended Youngstown State University. He enjoyed a 30-year career with the state as an activity therapy specialist 1 for Youngstown Developmental Center, from where he was to retire in October. Jim was an avid Minnesota Vikings fan and was a member of the Vikings Club. He liked to attend flea markets and was a Harley Davidson enthusiast. James was baptized as a member of the Evergreen church in Youngstown, Ohio, in 1995. He loved the Lord and proclaimed his love for Jesus through his service as a deacon and regular speaker of the Word. Survivors: his daughter, Durrie Davis of Michigan; siblings, Donna (Myron) Reese of Austintown and Denny (Margie) Price of West Middlesex, Pa.; one grandchild; and 11 nieces and nephews.
ROSS, Joseph E., born February 7, 1927, in Riverdale, Md.; died February 17, 2016, in Crowley, Texas. He was a member of the Arlington (Texas) church. He worked for years at the Review and Herald Publishing Assn., in Hagerstown, Md., first in the bookbinding department, and then in the computer department. In 1981 he accepted a call to the Texas Conference office in Burleson, Texas, where he worked in the computer department until his retirement after 40 years in denominational work. He was preceded in death by his wife of 63 years, Barbara Kenyon Ross, in January 2015. He is survived by their children, Cyndee Ross of Burleson, and Lynda Ross Hyndman and son-in-law Gregory of Tulsa, Okla.; his two grandsons, Kyle Price of Georgia and Alan Price of Burleson; and his brother, Dr. Donald M. Ross of Keene, Texas.
SMAIL, Ada L., born February 2, 1927, in Millersburg, Ohio, to the late William B. and Anna E. (Gallion) McCormick; died December 8, 2015, in Coshocton, Ohio. She was a member of the Millersburg (Ohio) church. Ada graduated from Millersburg High School and then started working for a local telephone company as a switchboard operator. She was an active volunteer with many community service organizations throughout her life and was also an accomplished fabric and paint artist with a focus on traditional folk art technique. She helped the local schools in Millersburg, doing art projects for school plays. In 1947 Ada married James Smail, and they spent 64 wonderful years together before his death in 2011. Survivors: her children: Cole (Susan) Smail of Chillicothe, Ohio; Mark Smail of Hemet, Calif.; Kurt (Janet) Smail of Westerville, Ohio; Abby (Rob) Rice of Newark, Ohio; and Andi (Ray) Evans of Jacksonville, Fla.;
son-in-law Wesley Tubbs of Coshocton; 15 grandchildren; and 10 great-grandchildren. In addition to her husband, she was preceded in death by her parents and a brother, Donald D. McCormick.
SMITH, Robert Allen, Sr., born January 18, 1931, in Hagerstown, Md.; died June 12, 2016, in Hagerstown. He was a member of the Hagerstown (Md.) church. Bob was employed by the Western Maryland Railroad for 43 years and 15 years for Shockey's and C. H. Williams Pianos and Organs in Hagerstown. He was a faithful member of the Hagerstown church. Survivors: his wife, Mary Catherine "Kate"; his son, Robert A. Jr.; and his sisters, M. Jean Dailey and Jeanne Barjos.
SWART, Shirley L., born August 16, 1956, in Wheeling, W.Va.; died November 13, 2015, in Fairmont, W.Va. She was a member of the Wheeling church. Survivors: her sister, Betty Edgel, of Wheeling.
WATTS, Carl B., born July 12, 1919, in Topeka, Kansas; died April 17, 2016, in Redlands, Calif. He was a member of the La Sierra University Church in Riverside, Calif. He graduated from Enterprise Academy (Kansas) in 1939 and Union College (Nebraska) in 1949. During his life, Carl worked for the denomination as a teacher at Union College, publishing secretary for the Kansas and Missouri conferences and an ordained minister for the Missouri Conference. He was in missionary service from 1955-1973, serving as publishing director for the Japan Union and president of the Okinawa Mission in the Japan Union. He returned to the states and pastored in the Southeastern California Conference at the Anaheim and Escondido churches, and then retired in 1984. In retirement, he was a member of the Berkeley Springs (W.Va.) church, and served as an elder, church and school board member. Survivors: his daughter, "Kit" Catherine Watts of Milton-Freewater, Ore.; his son, Howard Thomas (Sandra) Watts of Grand Terrace, Calif.; his granddaughter, Kandice M. Watts; his grandson, Travis D. Watts; six nieces and five nephews. His wife of 69 years, Lois May Shepherdson, died in 2011.
WRINKLE, Ruth A., born March 2, 1960 in Marion, Ohio; died March 11, 2016, in Millersburg, Ohio. She was a member of the Millersburg (Ohio) church. Survivors: her son, Kyle W. Witzel of Columbus, Ohio; her daughter, Kaylee C. Witzel of Columbus; her brothers, Steven Bayles of Caledonia, Ohio, and John Bayles of Edison, Ohio; and her sister, Barb Ranier, of Caledonia.
ZEMAN, Gisele M., born August 15, 1922, in Paris, France; died November 21, 2015, in Bangor, Pa. She was a member of the Phillipsburg (N.J.) church. She grew up in Paris, joining the Adventist Church with her mother when she was 5 years old. She met Rudy, a U.S. soldier, at her church in Paris during WWII, and they married as soon as the war ended, and then moved to the United States. In 1960 she began teaching French at the Plainfield (N.J.) Academy. She then moved with the academy to Tranquility, N.J., when it became Garden State Academy, serving as the French teacher and librarian until she retired in 1987. She loved her students dearly and even offered them a place to stay in her home. She was a dedicated member of the Phillipsburg church, serving as head deaconess and treasurer for many years. Her hobbies included singing, painting, knitting and teaching French. She was preceded in death by her daughter, Sylvie, of Denton, Md., and her husband, Rudy.
Correction:
Vera Norman, age 101, died January 4, 2016, at the Licking Memorial Hospital in Newark, Ohio. She was a devout member of the Newark (Ohio) church for more than 65 years.
Submitted by admin on Thu, 03/27/2014 - 1:23pm