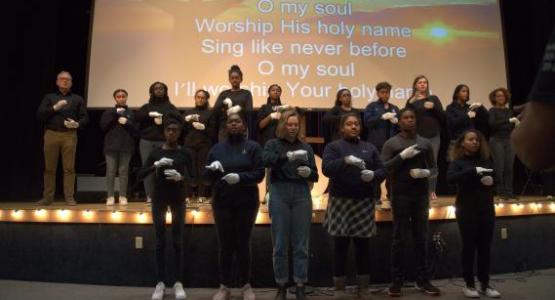 American Sign Language Equips Spencerville Students for Service
February 05, 2020 ∙ by vmbernard ∙ in Chesapeake Conference, Education
Story by Heidi Wetmore
American Sign Language (ASL) is a new addition to this year's high school class options at Spencerville Adventist Academy. The students first developed an interest when a parent presented the opportunity to have a club that would focus on teaching students sign language.
"We are so excited about the opportunity to provide options that explore new ways to learn and to serve man-kind," states Ellenor Paul-O'Neil, high school principal.
Senior Rebecca Oliyide says, "ASL has given me the opportunity to interact, not just by my words, but by actions."
Junior Eden Essex explains what motivated her to join the class: "I read a book over the summer which involved two women, one deaf and one who could hear. ... I found it fascinating how the book described sign language, and when I saw it as a course option, I wanted to ... learn as much as I could about the deaf culture."
ASL provides a way for students to improve their communication skills while developing an ability that will afford them an opportunity to serve others in a meaningful way. "Our vision is to teach American Sign Language so that students will understand the needs of the deaf and explore opportunities to serve, perhaps as professionals within the deaf community," says ASL teacher Inalva Bovo.