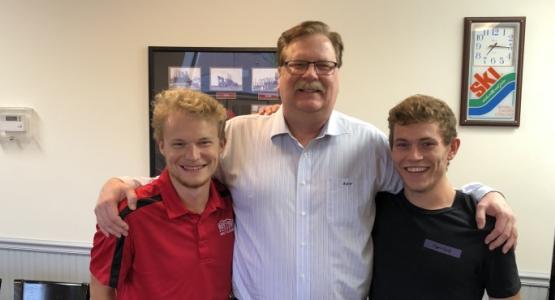 Next Generation Radically Boosts District Churches
October 10, 2018 ∙ by Web Administrator ∙ in Ohio Conference
Story by Heidi Shoemaker
Affectionately nicknamed "King of the South" by his pastoral peers, Ron Anderson ministers to a large district that includes Chillicothe, Jackson, Manchester and Portsmouth churches in rural, southern Ohio. He regularly empowers, mentors and involves young people in leadership roles in his churches. Earlier this year, Anderson began thinking outside the box on how to do something different for his churches. Partnering with the Ohio Conference, he hired four students to extend their summer camp work experience and assist with the district. 
Alain and Valerie Pichot, a brother-sister team from Shenandoah Valley Academy in New Market, Va., worked for two weeks leading a VBS program for the Manchester church. Utilizing their media and technology talents, they also assisted with advertisement design, updating the Portsmouth website and taking aerial shots of all four churches. 
Anderson shares that no children attend the Manchester congregation, but several non-member community children attended the VBS. "This was such a blessing and shot in the arm for the congregation," he says. "They would like to put this on their calendar for next year, and [they] were wondering if we can get some students to assist again!" 
Two other students from Ohio, Amani Hrabowy from the Evergreen church and Eric Anderson from the Chillicothe church, presented an adult Bible study program in Manchester using the Radical Teachings of Jesus materials, authored by Derek Morris, president of the Hope Channel. After the program, they presented the Bible studies at a popular pizza shop in Jackson. 
"There were typically eight or more in attendance, and it made a positive impact on many who knew our church was hosting a Bible study there," reports Anderson. The Jackson church is now considering reinstating their weekly prayer meeting, a large boost to this smaller church. 
The young men assisted the Portsmouth church with a lighting upgrade, switching out bulbs and fixtures to LEDs. They spent time at the Jackson church cutting down overgrown bushes, trimming trees, pressure washing the steeple and exterior and re-staining the exterior of the church. Together, the youth traveled nearly 1,500 miles over the course of the three weeks. 
Asked about his favorite part of this outreach, Anderson replied, "Seeing the kids being willing to take on and complete the project. ... Seeing them take ownership of the church."