Tappahannock Church Starts FM Station
November 26, 2012 ∙ by cmckenzie ∙ in Potomac Conference
Story by Tiffany Doss
Pictured below: Pastor Clinton Adams, Judi Hayes, Bill Tingler, Ida Minter and Hollis Wolcott review the FM license they received earlier this year for their new station.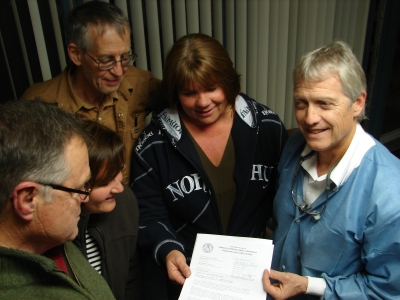 Because he attended a stop-smoking seminar and aired Voice of Prophecy seminars in his early radio career, local station owner Danny Wadsworth was familiar with the Tappahannock church and the members' passion for community outreach. That's why he called Clinton Adams, Tappahannock's pastor, to offer him his 300-watt AM station.
"We were thrilled with the news and realized the divine opportunity God had placed in our path," recalls Pastor Adams. "We also understood there would be a substantial financial and manpower commitment."
After seeking God's will, Adams says members started donating. One member gave 80 percent of his coin collection, about $2,000. Another donation came from the conference. The pennies kept coming in and the ministry kept moving forward.
Church members later converted an old classroom into a small radio station and installed a 90-foot tower (pictured). "We heard there was a noncommercial FM station available in the area. Satan worked hard. He didn't want us to expand the area we were witnessing to," says Pastor Adams.
Through teamwork, faith and nearly $13,000 later, Tappahannock church members met their series of deadlines—with only 10 hours to spare—and secured the WXTR 89.9 FM station this past summer. "The station is now up and running smoothly," reports Adams. "We are reaching people with the Good News!"