Read the December Visitor: Ministry in Motion
December 05, 2012 ∙ by cmckenzie ∙ in Columbia Union News
Story by Alexis A. Goring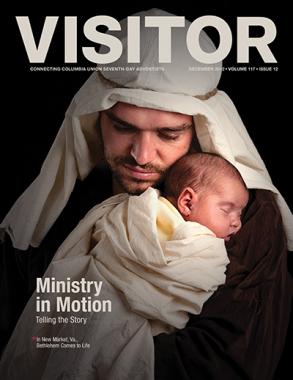 Seventh-day Adventists employ a number of creative ways to share their faith and minister to others. As you look for ways to reach your community this holiday season, and in the year ahead, you may want to pick up your December Visitor as it includes imaginative examples of ministry in motion. Below is one story of creative evangelism:
 
A Travel in Time
 
While traveling through the rustic, 9,000 square-foot replica village of ancient Bethlehem, with walls that rise 12 feet, there are plenty of stimuli to engage your senses. Pit fires burning along the route interrupt the cold night air, and tiki torches light the path against the night sky. There are contrasting scents of smoke, freshly baked pita bread and live cattle. You can also delight in sampling homemade lentil soup while observing street market professionals hard at work. There are even little boys who expertly weave through the crowd pretending to pick pockets.
           
When the bustling city scene concludes, a guide leads your group of travelers to a manger just outside the town's walls. There you join a crowd gathered in quiet awe to observe Mary cradle baby Jesus while Joseph hovers protectively nearby.
           
This travel back in time to one of the most renowned biblical towns, a ministry known as Journey to Bethlehem (J2B), is made possible by the talents of more than 100 Seventh-day Adventist volunteers of diverse ages in and around New Market, Va. The Christmas production, hosted on the grounds of Shenandoah Valley Academy (SVA), is expected to draw roughly 2,300 visitors this holiday season for their second annual succession of performances.
           
Journeys begin inside Potomac Conference's New Market church, where visitors register and enjoy the sounds of the season performed by Shenandoah Valley Adventist Elementary (SVAE) students. Guides rotate in to greet visitors, put them into "family" groups, then lead them outdoors to experience life during the first century.
           
Before travelers leave to contemplate what they've seen, they are guided into a tent, an area the event organizers call the evangelism booth. Here visitors receive free literature and hot cider, while Shane Anderson, senior pastor of the New Market church, asks them to share thoughts about their journeys and then delivers a homily.
           
Journey to Bethlehem is the brainchild of Shane's wife, Darlene. The idea came to her in early 2011, but she waited to proceed until she received confirmation from God that it was His will. She then started working with talented members of her church to make the dream a reality. Anderson asked SVAE teacher Julie Fralick to write a skeleton script for J2B, then met with an editorial team to enhance it. She recruited Joy Lipscomb, a certified drama director, to do a walk-through of the different scenes and contribute to the storytelling. Anderson and Lipscomb also worked closely to cast the parts and supervise rehearsals.
           
"We had a real blacksmith run a blacksmith shop, a real potter making pottery for the guests to watch, educators teaching at the school of the rabbis, music teachers composing and performing music, barbers shaving heads of actors who had 'taken a Nazarite vow' and a chef baked authentic Middle Eastern bread in a brick oven that he built for the occasion," shares Anderson. "Some of our actors hadn't done much acting before, but the whole J2B experience still took the breath away from our guests."
           
Anderson credits her church, as well as SVA and SVAE students and staff, for making the holiday production possible. It's become quite popular among area Christians as well as the curious, which has caused the team to increase their number of scheduled performances, last year and again already this year. Like the gift of salvation, admission to J2B is free, thanks to conference funding and church donations. And, this holiday season, they hope to once again draw hearts to Jesus through drama.