Fourth Street Friendship Opens Dialogue on Relevant Community Outreach
March 09, 2011 ∙ by cwhittingham ∙ in Columbia Union News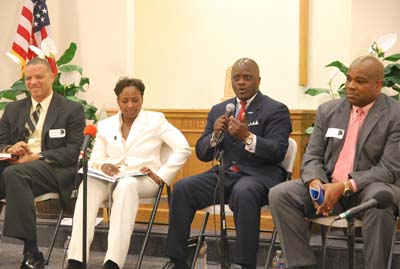 Story and photos by V. Michelle Bernard​
At "Engaging Meaningful Ministry From the Margins," a Fourth Street Friendship church event held last weekend in Washington, D.C., community leaders tackled tough questions about how to reach local communities. Approximately 500 people attended the event, and viewers from as far away as California and Dubai tuned in via the Internet.
The event brought together Seventh-day Adventist and community leaders passionate about serving the marginalized in our communities. During three panel discussions, attendees hammered out who the marginalized are and how to minister to them, and evaluated the success of the Adventist Church in reaching them.
"I'm very proud of my church, but if we're serious about attracting your generation and the generation after yours, we have to shift the paradigm of how we do ministry," posed Andrew R. Harewood, PhD, Fourth Street Friendship church pastor and coordinator of the event. "Unless we have a creative response we're going to lose them."
The Fourth Street Friendship church is putting that philosophy into practice through its homeless, health, financial and children's ministries. The church itself was born out of a branch Sabbath School and homeless ministry, and is now a thriving member of its Northwest D.C. neighborhood.
Who are the "Marginalized"?
The Adventist Church has a strong history of community service, but many of the 20 panelists argued that the church has lost its passion for reaching the "least of these" in today's society. Minnie McNeil, director of Adventist Community Services and Women's Ministries for the Allegheny East Conference, expressed that the marginalized often lack the resources or voice they need to improve their situations. However, participants agreed that the marginalized are more than just the poor and can also include members of the Adventist church.
Fiona Peart, a management consultant from New York City, commented that because Adventists have a culture of excellence and achievement, it can alienate members who feel that they don't measure up.
Jimmy Ferguson, senior pastor for the Dupont Park church in Washington, D.C., agreed and posed the questions, "Are we aware of the families who are within our church who are facing foreclosures? What about people with degrees who can't get a job? Are we intentionally trying to secure jobs for those people?"
How Will We Reach Them?
Four Christian military officers offered advice on how to apply military management principles to the church model. Churches, like any successful military mission, need a well-thought out plan, focus and follow-through they said.
Panelists agreed that in order to have relevant ministries, church members must be involved, and not simply rely on the pastor or church organizations to do the work. "Although we have ministries for people who are in prison, we still have [members] who don't want to sit with people who have been in prison," commented Charles Cheatham, Allegheny East Conference president.
Harewood, who also serves as a military chaplain, added, "I recognize that everyone is not going to want to get their hands dirty. Some might want to just write a check, but [the hurting] also need someone to sit next to them—in their hurt, in their vomit—and put their arms around them and let them know that they are there."
Despite the obstacles attendees believe exist in reaching our communities, they are optimistic about the future. "I really believe that if we're going to fulfill our vision here in North America, we have to return to our roots," said Alvin Kibble, vice president of the North American Division. "We've got to do a better job of building a bond and of drawing close to people that we hope to share the gospel with," he said. "This I believe can best be done when we establish ministries that serve the communities."
For more information and to see video archives from the event, visit  website at www.friendsat4thandq.org.
Photo: The second panel shared management and strategy advice from their military careers. (L-R) Jeffery C. Corbett, (COL) U.S. Army, Office of the Chief of Staff of the Army; LTC Janice Arrowsmith Office of Chief Army Reserve, Strategic Management; The Honorable Larnell Exum, Former Duty Assistant Secretary of Defense, House Affairs; and LTC Willie Harris, Office of the Chief of Public Affairs.